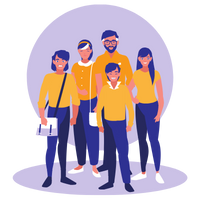 User creates his credentials on his first login and gets registered on CleverlyWork & When he creates an organization or Creator of another organization shares him the rights to view or edit it, the user is said to be the member of that organization.
No Results Found
The page you requested could not be found. Try refining your search, or use the navigation above to locate the post.
Member is a part of the website which is created by the user in an organization which is listed on the user page and allows customers to be a part of the website.
It includes the email ID, Profile, and Roles of the user.
There are a few steps to be followed:
On the home page click on profile and on Roles & Profiles.
Add a new user & fill in the details.
After filling in all the details you will get a notification on your email id to verify your ID and your email will be displayed on the page. Edit if any changes are required.