Build Your App.
The perfect no-code platform for your work or business. 
Now build your web portal for the whole company or management, like employee management, processing, or CRM for business.
Build your cloud portal (software in the cloud ) on your own. with the automatic creation of a mobile android application.
Customize forms, fields, or reports as per your requirements quickly. So you can expect to work on your ideas quickly.
Customized WorkFlow.
Build your functions and formulas in an effortless way like a typical talking language lucidity.
Build Your Own Reports.
Build your reports. Design reports and invoices, by your way. Surprisingly comfortable and intuitive.
Design Form & Fields.
Ideal business logic demands many elements as per need. So enjoy complete freedom of fields and forms.
Drag & Drop Page Builder.
A brilliant & easy to use drag & drop form designer at your fingertips. Manage all properties by dragging elements. Build powerful, interactive pages that will make traditional paper embarrassed it was part of your business workflow.
No Programming knowledge Required.
The Future of Software is No Code and Low Code Programming. So if you don't have coding experience or don't want to invest in development efforts, then and always CleverlyWork is a great product for bringing ideas into reality.
Automatic Mobile App Creation.
Almost all our products come with an android app where user can do all work from their mobile. If you are building new pages or a new document, it will automatically become available in the mobile app with all respective functionality.
Quick Page & Menu Builder.
Create Menus, Submenus, Pages with the help of an intuitive drag and drop interface. Clone, move, import and export pages will make you your processes easy, fast, mainly driven visually.
Design Dynamic Invoices With Document Maker.
Is document design complex? We don't think so. Our document maker works like a charm when designing as per your business design documents in minutes. Works with dynamic as well as static data.You can create invoices, challans & notes with it.
Template Builder.
If you want to create a template, which repeatedly changes, just design a template. Connect a path where changing data resides and create thousands of unique documents quickly—ideal for businesses, organizations, and institutions.
Dashboard Builder
Data representation which is visual, lucid, and attractive, always inspires to do more. Dashboard builder lets you help to design a better dashboard for your web portal. It includes partial reports for your portal.
Letter Builder.
 Letter sending for an event or a notification to clients, a letter builder is an easy way to achieve this. Neatly and cleanly designing attractive letters for print to hundreds or thousands of customers is possible in a letter builder.
Kanban Builder
If you can break your work into stages like structure, then for easy tracking and completing tasks, tracking progress, kanban builder lets you build Kanban boards. Kanban boards for business can be used collaboratively by the team also.
Report Builder.
Report builder ideally to build reports as per your requirements. Decide which column you require, select filters of data. And simply create your own reports.
Your search for the perfect developer for business softwares ends here. Do More, Grow More.
Start free. As your workload will grow & when confident, move to a paid plan.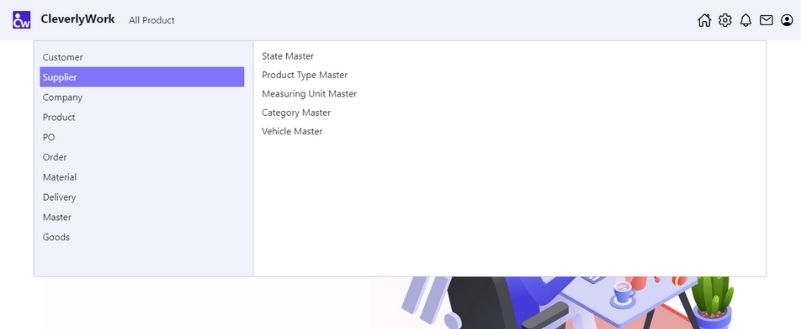 "Simplicity is the ultimate sophistication"