Developer Docs
Check Documentation area for detailed understanding of How CleverlyWorks?
Build Your Own Custom Experience
Unleash your Planning imagination with a spicy blend of creativity with CleverlyWork to manage your activities of organization. Build a webapp or mobile app very easily with few strokes of your fingertips.
CleverlyWork  is our craft and our passion. Our dream is "Build smart technology to help businesses work better". At CleverlyWork, we create beautiful software to solve business problems. In this, you will see a lot of applications.
CleverlyWork is a platform for the perfect no-coding system for your workflow management, monitoring business operations, creating websites and mobile apps. Our Mission is to offer a product with visual programming technical tools to every person who wants to create a website or mobile application.
In the CleverlyWork platform, you can customise your forms and reports to suit your needs. You can use the drag-and-drop option, which is very convenient for creating  forms, menus, reports, documents, & records.
In CleverlyWork you can keep a complete record of your business's financial transactions, Asset – Liability accounts, equity, revenues, and expenses using different templates & ledgers.
Also, you can easily create the dashboard to have an introspective look at your data into a visual display.
CleverlyWork Email as well as SMS service is mainly intended for personal and normal business email usage.
Our strategy is born from the consideration of simple needs of our clients we serve, with whom we work very closely. Many of our products were developed to meet our own needs—for CleverlyWork itself runs entirely on CleverlyWork. This means our software often must fail us before it can fail you.
CleverlyWork helps you pre-build a demo portal for your business or build a business from scratch. CleverlyWork helps build confidence and expand your imagination and ideas for your growth.
Happy Learning!!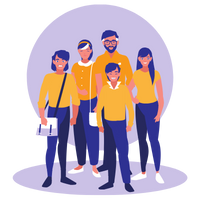 User creates his credentials on his first login and gets registered on CleverlyWork & When he creates an organization or Creator of another organization shares him the rights to view or edit it, the user is said to be the member of that organization.